It's not your usual Christmas ornaments that you'll find on four trees in downtown Williams Lake, but scarves, toques, and mittens!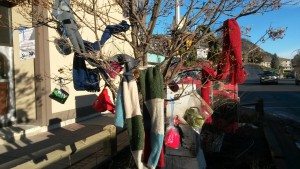 Secretary for the Community Arts Council and also Co-ordinator for the Yarn Bombing Project, Sharon Hoffman says they collected items from their various member groups to create the first Christmas Spirit tree near Boitanio Park for the City's less fortunate.
"The small items were put in baggies and these were the baubles which were toques, and mitts, and hand-warmers, and stuff like that, and the scarves we just draped to look like garland and we put the bigger items there like sweaters and fleeces," she says.
"People were right there and saying oh could I have this, and thank you so much."
114 items were donated with another 25 from the Earth Friendly holiday event.
Hoffman says once this weekend wraps up, there will be only one Spirit Tree near Boitanio Park.
"Items left over after the Winter Lights celebration, I will collect these and take them to that tree because people were so grateful to just receive anything cozy."
Hoffman says the idea for the Spirit Trees came from Angie Delainey who posted a photo of some trees decorated with winter woollies on the Downtown Business Association webpage saying wouldn't it be cool if we did this.
Those interested in donating items to the Christmas Spirit Tree are asked to contact the Williams Lake Community Arts Council.