The annual Thanksgiving Day food drive is underway in Quesnel.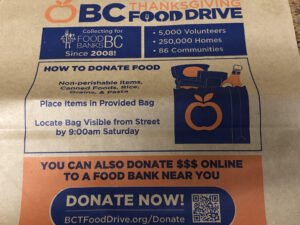 Russell Higdon is one of the organizers.
He says volunteers will be dropping off a bag at people's houses sometime this week.
"It has a Thanksgiving Food Drive logo and all the information on the bag, but the key information is the bag needs to be filled with non-perishable food donations and placed on your front porch visible from the street for Saturday morning at 9.  Our volunteers will come by the pick your bag up between 9 and 10."
Higdon says the bag will then be loaded into a large trailer and taken to the weigh scale.
"2021 we received 7,848 pounds of food and in 2020 we received 6,759, so we had a 16 percent increase by weight."
The total was also the most ever for the event.
Higdon says the food will then be dropped off at the Salvation Army food bank.