Amnesty International says the August 2014 Mount Polley tailings pond breach raises serious questions about the province's ability to protect British Columbians economic, social, cultural, Indigenous and universal human rights under current mining regulations.
The organization released a report entitled 'A Breach of Human Rights-The Human Rights Impact of the Mount Polley Mines Disaster.'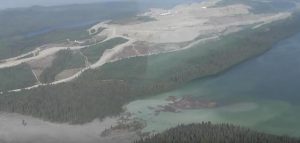 "We had meetings and interviews and phone calls to get an overview and what we have been looking are violations of economic, social, and cultural rights that Canada has the obligation to protect. So, for example, the right to a healthy environment, the right to water, the right to cultural rights such as the rights enjoyed by Indigenous peoples in Canada," says business and human rights campaigner Tara Scurr who adds that people have the right to a remedy when those rights are violated.
"People haven't received any kind of compensation. One of the remedies might be that they would like to the company fined. The company has not been fined so people are feeling that they're not having the remedies that they're asking for which they have a right to ask for."
Scurr says that they also found in the course of their investigation in which they travelled to Likely and Williams Lake in 2015, 2016, and 2017,  weaknesses in BC's mining laws, regulations, and policies that meant there were gaps in human rights protection for British Columbians when they're seeing business activity in the resource sector in the province.
Scurr says there are concerns on how the recommendations from an expert panel have been implemented.
"The expert panel recommended that BC not use tailings storage facilities any longer and they look at doing dry storage because it minimizes risk. So in the new legislation and the code of all that that has come forward it's not strong enough language that we feel would really protect human rights as British Columbia is meant to do. That's in part why we're calling for and backing the call for a public inquiry into BC's mining regulation framework. We think a public inquiry would help to really identify where those human rights gaps are and identify ways that the province could bring their policies, regulations, and laws in all of those different areas that touch on resource development in line with Canada's human rights obligations."
Without knowing what the full range of impacts on human rights are, Scurr adds that it's very unusual to allow a company to discharge wastewater into a lake that doesn't even meet BC drinking water guidelines.
"Residents and First Nations, and communities have said they're really concerned that there could be unknown long-term ongoing human rights harm from really essentially using Quesnel Lake as part of the water treatment process to dilute the effluent further so that it does meet drinking water guidelines."
Amnesty says in order for the public to truly assess the human rights impacts of the Mount Polley disaster and understand the necessary remedy and reparations, the province should release the findings of a number of impact studies it ordered as well as the findings of the Conservation Officer Services investigation.
"There some things the province could do right away," says Scurr. "For example around access to information. Anyone who has looked for information about the water treatment and water testing will know that there are many websites where information is posted, often the documents are difficult to access. One thing in the more short term is to ensure that the testing results are made publicly accessible in easy to read, easy to download format on one website."
A United Nations Working Group will be in Williams Lake to further discuss and investigate the 2014 spill with First Nations, local government and community groups on Sunday.
"They'll be listening to presentations from a variety of people in the community, then they'll be coming out with a report on June 1st with the recommendations to Canada. So we'll see if they'll be recommendations on the Mt. Polley disaster and ongoing issues on that. Then that report will go to the Human Rights Council," Scurr explains.
A Ministry of Energy and Mines spokesperson says they cannot comment because of the interregnum-a period of temporary suspension of the usual functions of government due to the election.
Imperial Metals also did not offer comment at this time.  The company which held their annual conference in Coquitlam on Thursday was met with the protest of Indigenous activists and supporters. One person was arrested while another four were forcibly removed by police.