A beach sweeper will now be officially purchased following an impressive demo at Scout Island in Williams Lake Wednesday morning.
"They even let me practice a little bit on it," says Mayor Walt Cobb of the sweeper from Kendrick Equipment in Delta.
"Staff are pleased with it. It does an excellent job, it will not only clean out the bird mess that's on the sand area, but it filters out the sand and gets out the bigger rocks, and glass; those kinds of things."
Cobb adds that he knows however that the struggle on keeping the beach clean will be far from over.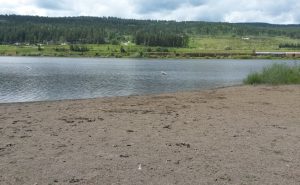 "Well I've seen it before but it's getting worse and worse. It's actually pretty disgusting; I wouldn't want to take my child down on that beach. We got to do something. If this continues we're going to have to do something to scare them (geese) away."
The City will not only be tackling keeping the sand clean but the grass as well in which a separate machine will be used.
The beach sweeper which Cobb says could be out every day comes at a price tag of $23,000.