The stork has finally arrived in Quesnel.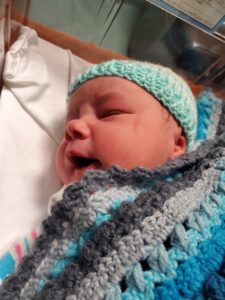 A baby boy was born at 7-50 a.m. yesterday morning at G.R. Baker Hospital.
It is the first baby for Naomi Mullen and Tyler Neufeld.
His name is Jake Loyd Mullen Neufeld
Mullen says Jake is a big baby.
"He weighed 9 pounds and 10 ounces, He was 22 inches long."
Mother and baby are doing well.
"He's right beside me sleeping. I am getting used to it. You definitely feel different. I am in love with him, he's amazing."