"This entire week, we have been holding our breath with grief."
Those are the words of Mark Durupt, a Vanderhoof man who was a part of the search and rescue team tasked with finding Madison Scott 12 years ago.
Earlier this week, Madison's remains were found by the RCMP.
The town's population of around 4,500 have seen her missing posters every day for over a decade. Tonight (Saturday), Vanderhoof packed the Nechako Valley Secondary School track with over 2,000 people mourning Madison.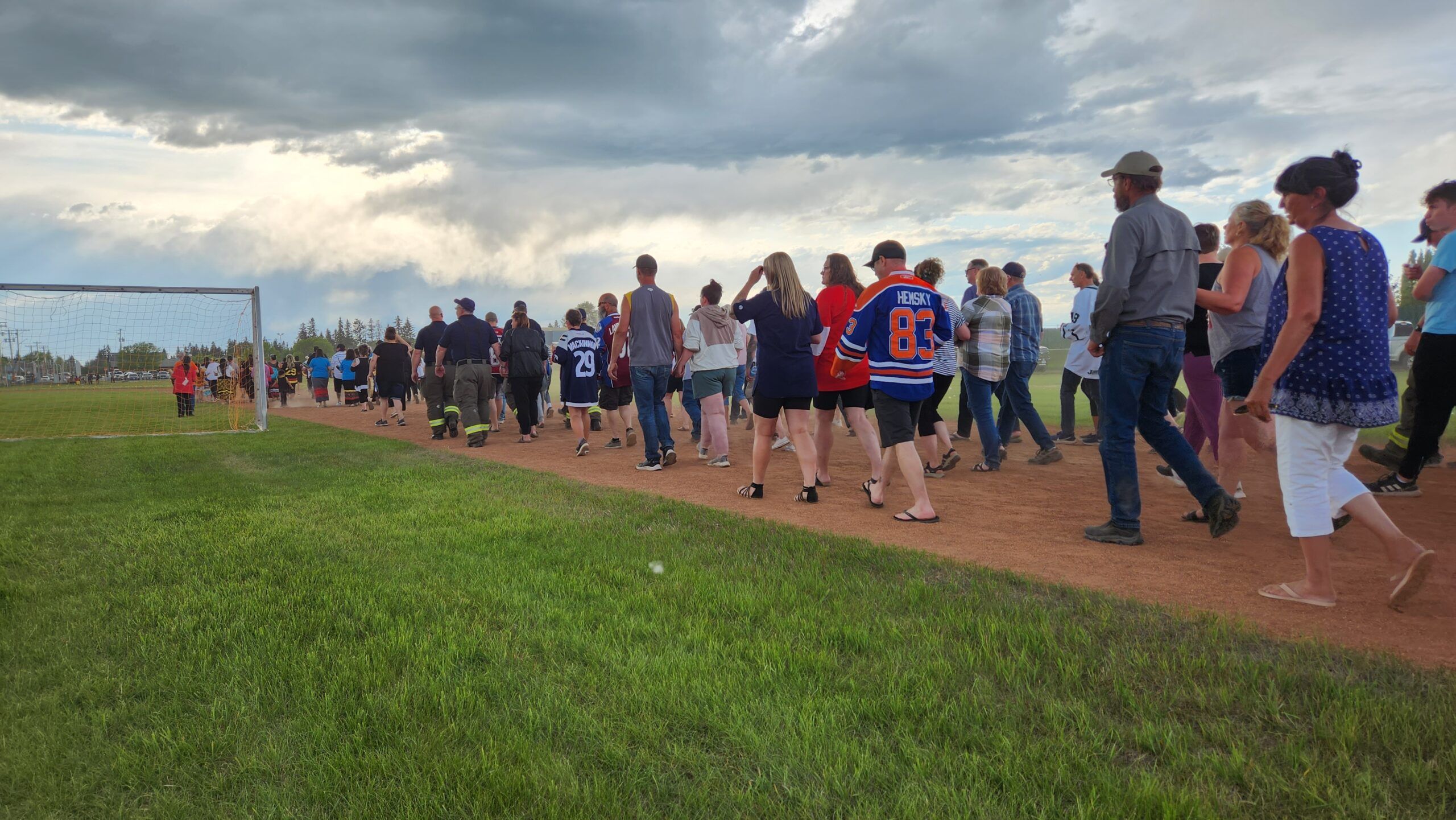 The vigil included speeches from Vanderhoof mayor Kevin Moutray, family friend Julie Hodson, and Durupt, followed by candle-lit and drum filled lap around the school's track and a moment of silence.
"12 years ago, we got the call for Maddy," Durupt told the crowd. "We were deeply disappointed that we didn't find her in those first few days… and then came Monday with the news. We have been holding our breath now for the last week. In shock, in relief, in honour, and in grief."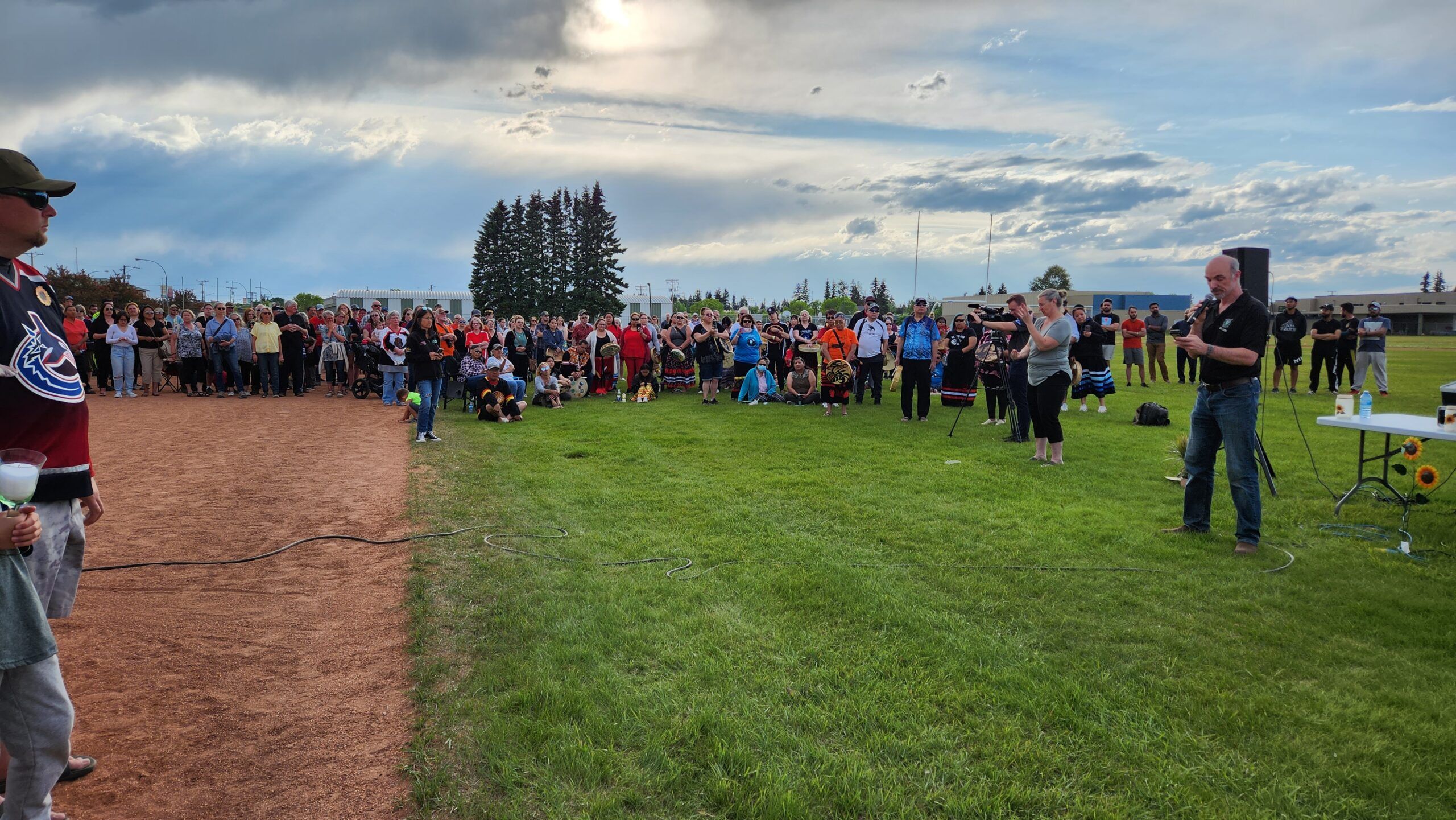 "Just like Maddy, hope is not lost, but it has shifted. Shifted to hope for community and family healing," he continued. "We started 12 years ago searching for Maddy. What we rescued along the way is our faith in our community, and its support, and its resilience. And our hope that healing will very slowly, but surely come."
"It is very emotional for us," he told Vista Radio after the vigil. "This entire week we have been holding our breath with grief and relief, and to see the community come together like this, as we have seen them come together over the last 12 years, it is really amazing."
— Will Peters (@WillPeters_1) June 4, 2023
"We are here to acknowledge ourselves as a community of support for the Scott family," Hodson told the crowd. "It has been through our empathy that we have helped the Scott family's hope and faith, and kept it alive for them for the last 12 years on their quest to find their daughter."
"We are here tonight because we care. We are here tonight because we feel. And even though the search for Maddy is over, our caring is still needed for the Scott family and the community of all missing people."
She continued, saying "I still believe the heart of humanity is good and decent… I have proof. The proof is all of you. All of you here tonight and through the last 12 years are the proof the heart of humanity is good."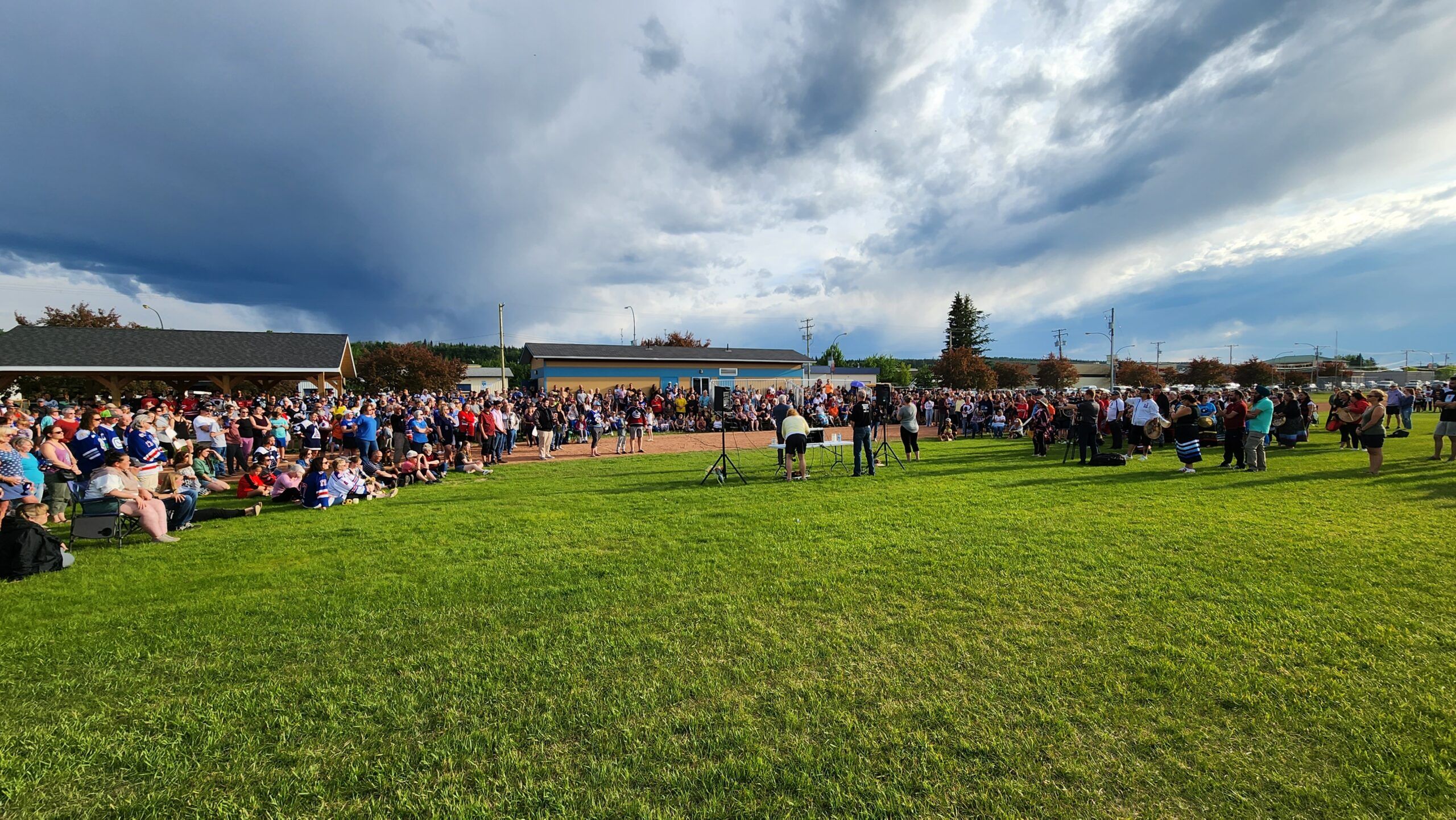 "Please, let your light shine, for you, for others, and for Maddy. And continue to be the proof."
"It is the start of the healing journey, that we can come together and be there for each other. I think that is the most important thing the community needs right now, is just to focus on each other," Moutray told Vista Radio after the vigil.
"We are a small, close community, we all know each other, and in hard times we are all there for each other. It is good to come together and have that collective grief together."
The vigil was put on by the Nechako North Stars Senior AA Hockey Team. They said Maddy was a big hockey fan, and many people wore jerseys as a way to show their support.
Michael Simoes and Brittany Giesbrecht were two of the organizers. They both went to school with Maddy.
"We were all very close, it is a small community. It was a huge impact on our grad class and our whole community," Giesbrecht said.
Simoes remembered her as a "spark," always smiling, always happy, always in a good mood.
"12 years ago when it all happened, we were 18, 19, 20 years old. Now we are all 30, 32 years old. Lots of us have kids… it is just a different feeling. I don't know how to put a finger on it," Giesbrecht continued.
"It has been a difficult last week, and of course the previous 12 years," Simoes said. "It is tough to put a finger on the emotions we are feeling. There is a lot of gratitude for the support the community has, but at the same time it has been really tough."
Everyone at the vigil felt the full range of emotion.
The one that seemed to cut through the rest was hope.
"Closure is a really hard word, but is has to start somewhere," Durupt said. "I feel like what we have seen is a movement in the case and a glimmer of hope for the future that this can actually happen. It is going to take a long time, we recognize that, it is going to be a bumpy road for many of us emotionally, but it finally feels like it is possible…
This was the part we were really struggling with for all that time. Now the possibility of hope is there."
"There is a big feeling for hope," Simoes echoed. "I think the hope goes past the case, there is hope the community will stay strong together."
"There is something to be said about Northern BC and how strong we bond together… from William's Lake all the way to Rupert. If anyone needs anything, your neighbor is there for you," Giesbrecht added.
Adding on that, Simoes thanked the entire northern community for the immediate and long term support towards the Scott family and the fight to find Maddy. "Everywhere you go, there has always been support to find Maddy, and it was amazing to see the turnout tonight."
"We have proven over and over again we are a community of love and care," Durupt said. "That is what we are going to continue to need to be as we rally around the Scott family, and the RCMP as they are doing their job."
The RCMP have released very few updates on the new developments in the Scott case.
They have confirmed they are currently searching a property east of Vanderhoof in relation to the case, and will be for as long as is required.
Maddy's remains were publicly declared found and identified on Monday, May 29th, 12 years to the day that she was first reported missing.
As much as the community was mourning at the vigil, they were also wanting answers.
Mayor Moutray asked anyone there with information that could help the case to contact the RCMP, but for people spreading numerous rumours about the case to keep them to themselves out of respect for the family and the investigation.