The Cariboo Ski Touring Club is looking for funding to improve their outdated biathlon range before the 2024 BC Winter Games in Quesnel.
Past President Brian Kennelly made a presentation to the North Cariboo Joint Advisory Committee last (Tuesday) night.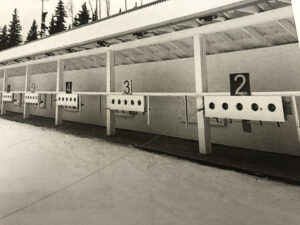 "The Biathlon range was constructed in late 1997 and began operation in 1998.  It allowed us to host the 2000 BC Winter Games.  At that time our biathlon facilities were one of very few in Northern BC.  However, in those 25 years that have passed, many new biathlon ranges have since been built in our region that are far superior to our facilities."
Kennelly says the BC Winter Games coming up in February of next year prompted them to renew their appeal to try to improve the range.
"Our inability to update and improve our facilities is becoming an embarrassment, and hosting the BC Winter Games in 2024 will bring much attention to the North Cariboo and Quesnel.  We don't want our community to be embarrassed by that, so that's why we sought to make the improvements."
Kennelly says it takes a lot of volunteers to host events.
"It is a huge undertaking for volunteers to haul in and place all the shooting targets, prepare the range and the shooting areas at the start of every season, and to then remove them and store them far away from the range at the season's end.  And this is because that range is currently used as active grazing, it is currently inside the Hallis Lake community pastures."
The targets weight close to 200 pounds and it takes four people to carry one.
Kennelly says running the events is also a lot of work for volunteers.
"They (targets) are operated by a rope that goes to the shooting platforms, so there is a long rope that actually manually resets the targets.  So they have to be able to support that and of course there is a range.  There are two different flaps that open on the targets to change the size of the target being shot at.  Right now they have to be covered when they're not in use to protect them from frost and the snow."
Kennelly says there is also an environmental component to their request.
"You can see the hillside.  The bank and the earth and base that they sit on renders recovery spent lead impossible.  So facing new regulations that require lead, and we certainly agree with that, that that lead not be allowed to leach into the soils.  That's impossible the way we have the range right now."
Kennelly says their plan is to have a biathlon range that is separate from the area used for grazing, and to build a permanent structure.
"This would also allow us to have permanent structures built for housing the targets with a built in facility for lead collection, a shooting platform and the storage of equipment.  The roof and backing enables the lead to be retrieved without any leaching into the nearby soils."
Kennelly says it would be modeled after existing facilities in Burns Lake, Smithers, Vernon, Kelowna, and Whistler.
He says a permanent facility would also allow local athletes to use the range year round to make them better prepared to compete with other athletes who already have that ability.
The cost to build it is estimated to be between 80 and 100 thousand dollars, and Kennelly noted that they would be looking for letters of support for potential grant money.