A new play structure for kids and adults is one step closer to becoming a reality in the City of Williams Lake.
Back in February of 2022 the Williams Lake Daybreak Rotary club brought a proposal to city council asking for permission to have climbing walls put in a park which was unanimously endorsed.
Since then President-elect for Williams Lake Daybreak Rotary Club, Andrew Sandberg said he was busy fundraising for the project through sponsorships from local businesses and donors.
"We started by talking to local businesses and putting it out to the residents to see if we could get some local support and sponsor funding. It was very well received and almost the entire project has been funded by local businesses and local families, there was a tremendous amount of support to make this happen."
Sandberg said the total bill all-in is going to be in the neighborhood of $120,000 and that the climbing walls arrived yesterday (Tuesday) and will be hopefully set up in Boitanio Park by May.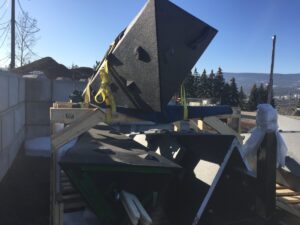 "It's obviously weather dependent. We're working closely with the City for when Boitanio Park is ready for installation with the snow and the frost is gone and things dry up a little bit. The climbing wall is going to be on the side of Boitanio Park closest to Save On Foods just up from the bus loop."
One of the wall structures is 12 feet tall and the other 8 feet tall, Sandberg noted, and that it will benefit both kids and adults alike.