The summer of 2022 is when the expansion of the Emergency Department and Intensive Care Unit at GR Baker Hospital in Quesnel is now expected to be completed.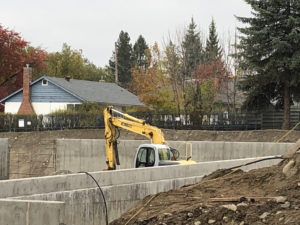 Mark Hendricks is the Communications Lead for Capital Projects with Northern Health.
"In late 2020 the project timeline was adjusted to summer 2022, and that was due to a number of factors including the discovery of archaeological remains on the site as well as just general workforce delays due to COVID.   We're currently on track to hit that target."
Hendricks says they are in the process of getting the project ready for the winter months.
"So right now they are building the superstructure and putting the concrete floors in place, so that the building can be enclosed for the winter so that work can carry on through the winter season."
Hendricks says people can actually view the construction site themselves online.
"We have a website called Let's Talk.Northern Health.ca and that is our public engagement platform that we're using for all of our major capital projects including GR Baker.  There is a page on there for the GR Baker project and on there people can see regular updates, as well as there is a link to our construction camera.  That camera will actually let the public see the site directly, as well as view historical archive footage as well as a time lapse of how the project has progressed."
The 27-million dollar project remains on budget.