Business owners within the community, as well as the Mayor of Williams Lake and MLA Donna Barnett, gathered Thursday afternoon to celebrate 30 years of Community Futures Cariboo Chilcotin supporting business.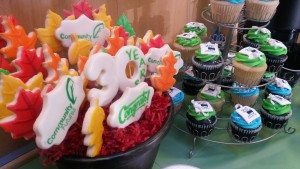 General Manager Karen Eden says she's excited they have been in the community for three decades.
"I've been here for 19 years myself so I've seen a lot of businesses come and go; and that's what we do, we support small to medium-sized businesses."
Within their 30 years, 1,450 self-employment businesses have benefited through Community Futures, one who is Jackie LaFlamme, owner of the Info-Book Telephone directory.
"I don't believe my business would have made it without their help," she said.
"I was part of this self-employment program, so I was able to go on EI for the first year. It's been 17 years since they helped me and 19 years since the book got started and this is the 19th publication coming out."
Over 30 business loans per years are delivered through Community Futures, one which this year went to the Cariboo Autism Centre that officially opened in May.