100 Mile House RCMP received information regarding a possible stolen pickup truck heading southbound on Highway 97 from 150 Mile on Wednesday, September 1st.
According to police, RCMP members positioned themselves to conduct surveillance of the highway and observed the stolen pickup turn into Felker Road in Lac La Hache. The truck was located at a residence on Clark Street, with assistance from the Williams Lake Police Service Dog.
Police say one male who was seen driving the truck earlier was arrested at the scene. Police say the pickup which was recently stolen from Ashcroft was recovered, as well as a cargo trailer stolen from the Clinton area.
The male was released to appear in court at a later date.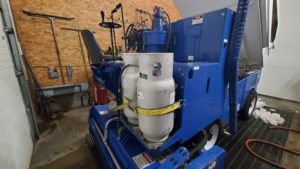 Stolen propane tanks
Police say five 30-pound propane tanks were stolen from the South Cariboo Memorial Recreation Complex sometime between August 28th and 30th. Police say these tanks are necessary to operate the Zamboni for ice resurfacing. Local businesses are encouraged to contact police if they suspect anyone in possession of a tank like these attempts to re-fill it.
Anyone with information on this theft is asked to contact the 100 Mile House RCMP at 250-395-2456, or Crime Stoppers at 1-800-222-8477.