Three pigs who found themselves at the Prosperity Ridge Shopping Centre were brought to safety with the help of Williams Lake & District SPCA.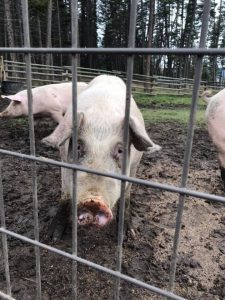 Branch manager, Elizabeth Dighton says they received a slew of phone calls from concerned citizens and store owners Monday afternoon.
"We did try and phone the stockyards to deal with them as they are livestock and we're not really equipped for that," Dighton explained.
"In the end we had a bylaw officer come and help with some volunteers in the area round up the pigs. We loaded them into the back of a horse trailer and delivered them to their home."
Dighton called it an interesting break in the day, that went really smoothly.
"Everyone stayed very calm and slow, and with livestock that means you can do a faster job," she says.
"We just slowly pushed them into the trailer. They paused for a minute, hopped up, and that was it, shut the door behind them and they were good to go."
The owner of the pigs arrived on scene before the SPCA got there with the trailer.
"They weren't that far away from home," Dighton said.
"Have a good chuckle on the pigs on our behalf because it was a fun diversion."