New vehicles were delivered over the last two months to the Ten Mile Volunteer Fire Department, Interlakes Volunteer Fire Department, and 108 Mile Volunteer Fire Department.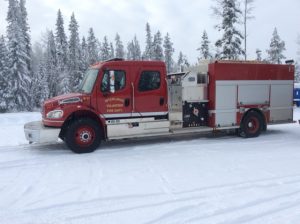 "The last truck, a tandem-axel water tender, arrived this week for the Ten Mile Volunteer Fire Department," said the Cariboo Regional District in a news release.
The CRD also purchased a new fire engine for the Interlakes Volunteer Fire Department and a tandem-axel water tender for the 108 Mile Volunteer Fire Department.
The engine cost about $358,000 and the tenders cost about $322,000 each.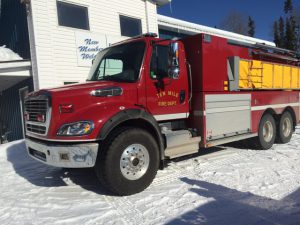 "The new tender will improve our response times to emergency incidents because it will fill and empty faster than what the Ten Mile VFD has at the moment," said Ten Mile VFD Chief Danny Keeler.
Because of insurance requirements, all of the CRD's fire apparatus are on a replacement schedule. Last year, the CRD made the decision to standardize the trucks used by the region's 14 volunteer fire departments for the next 15 years. Going forward, this style of engine and water tender will be the standard as departments' apparatus requires replacing.
"This last summer just goes to show how important our volunteer fire departments are to our communities. Having equipment that is up to standard is critical for the work they do. Many thanks to all the volunteers that serve and protect our communities," said CRD Chair Margo Wagner.
(Editor's Note: Listen to Chief of the Interlakes Volunteer Fire Department Doug Townsend talk about the new engine and some of the assistance members provided during the 2017 wildfires with the author of this report in the audio file below.)