With the first significant snowfall of the year across most of the Cariboo Sunday evening, RCMP are reminding motorists to drive with caution and ensure they have good winter tires on their vehicles.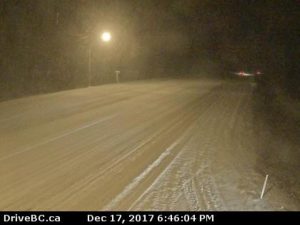 Williams Lake RCMP Staff. Sgt Del Byron says that there was a two vehicle crash Sunday afternoon at the Y intersection of Hwy 97 and Hwy 20.
He says that minor injuries were sustained and police are conducting an impaired driving investigation.
"There were a few other minor fender bender crashes in the area," adds Byron.
A motor vehicle incident also occurred on Highway 97 north of Lac La Hache at Dodge. Rd. at approximately 5:30 pm which resulted in the closure of the highway. A northbound pickup reportedly pulling a trailer collided with a southbound pickup resulting in 5 people being sent to the hospital with minor injuries.
The highway has since reopened.