Between 50-60 employees impacted by a blaze that broke out at Tolko's Lakeview Division sawmill earlier this month took part in a meeting Tuesday hosted by the United Steelworkers.
Project coordinator for Local 1-2017, Terry Tate says that the meeting went well which had EI as well as WorkBC representatives in attendance.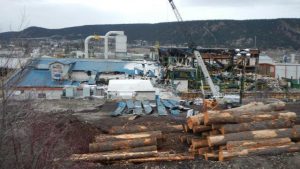 "That was important so the guys could get all of the correct information and literature with regards to EI or applying for assistance through Work BC. And I think the questions that were asked were good-there was 20, 30 questions that the guys had and it went over very well."
Tate notes that this is their second meeting that also had good turnout the Sunday before although EI was not present and they had to refer the questions of employees to them and then back to the employees that asked them.
He says going forward they will evaluate and see how things go.
"I know the Local and Tolko are working on some shifting schedules for Soda Creek as well as Quest, and there's some people there now that have gone for orientation. So that's good news and there are some people that have already gotten employment in the region. So they're doing everything they can to keep people working and keep them in the area."
Tate says that employees have also gone for orientation mainly in the log yard side of things at Tolko's Heffley Creek Division, adding that Ministry representatives were also in attendance at the meeting.
Tolko's goal is still 6 months in terms of getting the mill back to full operation Tate understands and says that getting the logs into the mill is paramount and when that happens hopefully they get more people to work.
"The planer, if they get these other shifts moving there's a good chance that there may be some excess wood coming down into Lakeview at which case they would operate the planer on a temporary basis, but that's getting a little ahead of ourselves right now," says Tate.
"The plans and strategies are being worked out right now as we speak."
Of the 175 employees normally employed at the mill, about 75 are currently not working.