The Powder King's third annual Snow Show, Shine, & Swap wrapped up early Saturday afternoon at the Williams Lake Stampede Grounds due to the cold weather.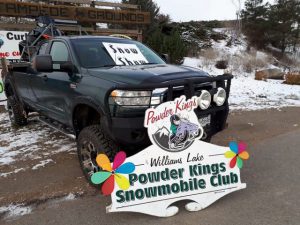 PR Director Laurie Snowball says despite this there was a great turnout and that they surpassed the number of people signing up for membership.
"Last year we just around 80 so with the cold we weren't sure," says Snowball noting that 84 signed up today.
"We had probably at one time 100 people walking through the area and taking advantage of enjoying the outdoor sport and looking at what was available in our area."
The show was marked with appearances by 2017 X Games riding SnowBikeCross champion Brock Hoyer and members of the Central Cariboo Search and Rescue and BC Conservation Officer Service.
A skimmer which Snowball says is pulled behind a snowmobile for either rescue or supplies was also completely filled with non-perishable food items for the two local food banks.
"So pleased with the community for doing that today, and I can't speak enough of all the volunteers and all the dealers that came out."
The Powder Kings will hold their AGM at Mr. Mike's on Nov. 21 at 7 pm in Williams Lake.