There was a good turnout at Thursday night's Take Back the Night in Williams Lake.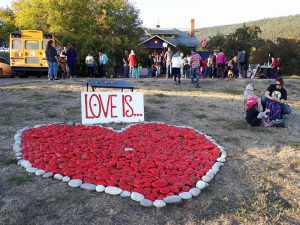 Chair for the Violence is Preventable Committee Tamara Garreau estimates that 80 attended and that they were able to raise $150.00 for violence prevention programs through a barbeque that followed the downtown walk. Red rocks in part of the BC Society of Transition 'Love is Campaign' were also signed by those taking part and placed in what is hoped to be a permanent display in front of the Purple House.
"Our children who witness abuse counselor Rhonda Surette actually came up with the love rocks idea. So we painted these red rocks over 600 of them and we invited participants last night to write what they think love is on their red rock…I'm hoping it stays there and doesn't' get vandalized."
Garreau adds that the Committee will be hosting another upcoming event.
"It's a new one we've never done it before, it will be the first annual event of its kind. It's Sisters in Spirit Vigil honoring the lives of missing and murdered indigenous women and girls so we're going to host a candlelight vigil for this."
Garreau says although they are still sorting the details they are aiming for the event to take place on October 20.
The Violence is Preventable Committee according to Garreau has several programs in Williams Lake that support women who are fleeing domestic abuse including the Chiwid Transition House and children who witness abuse programs with the Cariboo Friendship Society.
She adds that the Women's Contact Society has many programs as well, and estimates that over 700 women had accessed the Transition House last year.