Due to increased fire activity in the Bald Mountain area, Highway 20 (east and west directions) from the Fraser River to the Alex Graham/600 Road is closed until further notice.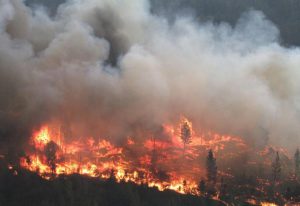 The Farwell Canyon Road is also closed.
The Hanceville fire as of Saturday afternoon was an estimated 179,768 hectares. It is exhibiting aggressive Rank 5 and Rank 6 fire behavior and is being driven by strong winds.
"This temporary road closure will help protect public safety and allow firefighters and firefighting equipment to move through this area more easily," said BC Wildfire Service.
338 firefighters, an Incident Management Team, 13 aircraft and 86 pieces of heavy equipment were assigned to this fire on Saturday.
Travelers are urged to avoid this area since fire behavior and weather conditions can change rapidly.
For more information and updates on the status of Highway 20, please visit: www.drivebc.ca