An Evacuation Order has been issued for the area along Highway 20 from 2.5 km west of Alexis Creek to 1 km east of Raven Lake Road, with upper and lower boundaries as outlined in the Alexis Creek Evacuation Order 1 and Alert 1 Boundary Map.  The Order includes the communities of Alexis Creek and Hanceville
The Order was issued at 9:10 pm Saturday, July 8 by the Cariboo Regional District.
There is also an evacuation alert along Highway 20 from 1 kilometre east of Raven Lake Road to the Fraser River. That includes the Military range area, Riske Creek and 10 Kilometres up the Chilcotin Meldrum Road.
The Lexington Subdivision in the Sugarcane area was evacuated earlier today.
Meanwhile in the North Cariboo, The Dragon Mountain fire, about 25 kilometres southeast of Quesnel, has now grown in size. It is estimated to be around 1500 hectares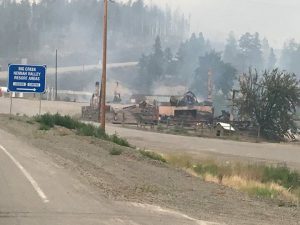 In Williams Lake the City's Emergency Operations Centre closed for the night and will reopen at 8 am on Sunday, July 9, 2017.
Forest Ministers John Rustad said Saturday afternoon that the aggressive nature of the fires are making it difficult to plan an attack and that 3,000 have been evacuated in the Cariboo. He said infrastructure damage has become significant as well and stressed the primary focus is getting people to safety.
(With Files from George Henderson)