An image captured in 1867 of 9 Shuswap Chiefs that got together for the Queen's birthday celebration is the latest mural being painted in Williams Lake.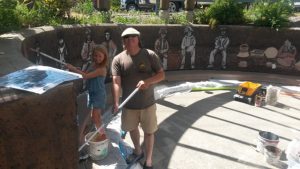 Artist Dwayne Davis was busy Tuesday at the Hearth Restaurant undertaking the project.
"It was designed to emulate a pit house, so what we're doing is kind of like a meeting of the Chiefs in the pit house," he says.
"All nine Chiefs will be recognizable but of course I had to change the way they're posed a little bit to set them into the design."
Davis says that it's fitting to be doing the mural 150 years later and that children had come down on Canada Day to help him paint.
He says the longest part of doing a mural is adding the details, and that he hopes to have it complete within about 2 weeks.