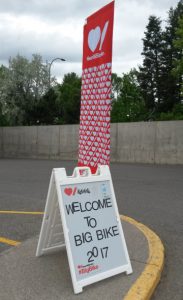 Friday's Big Bike which rolled through 100 Mile House and Williams Lake once again raised big funds for life-saving research for the Heart and Stroke Foundation.
Teresa Moore, area manager for Heart and Stroke Foundation Kamloops-Cariboo, spoke with us after the last Team-Gibraltar departed from the Save On Foods parking lot in the lakecity.
"It's always great to come to Williams Lake. They're great hosts for us. We had 7 teams, 3 rides, and raised $10,361 so that was fantastic."
Moore adds that they were in 100 Mile House earlier that day. She says they had just 1 team who raised $8,000.