A first nations woman stood outside a closed police barricade on Mackenzie Avenue in Williams Lake Wednesday morning praying for change and for the two lives that were lost.
Rose-Marie Jack who lives in the area says she found out about the incident in which two individuals one of which was a distant cousin of hers, were found deceased at a residence through a neighbor.
She says it's the war on drugs that everybody including children is losing.
"He had a big family who really loved him. Maybe he wanted to make some money and get something nice for his family and this is what he chose."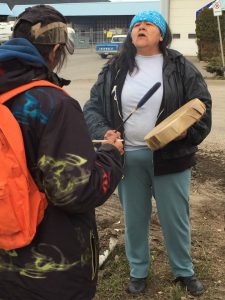 Jack says things will only change when we find a new way to heal and that she will be attending a treaty meeting this morning to go straight to the heart of the matter.
"I talked to family before and I said as aboriginal people when abuse happens when you're a child our kids are healing, our kids are getting over it but they're not doing it in a traditional way. They're all sitting about around a 60 pounder and they're all holding each other and crying, and drunk."
"Things will change when we find a new way to heal."
RCMP confirmed in a media release that they were called to a residence at 8:46 pm Tuesday and that the two deaths appear suspicious.
North District Media Relations Corporal Madonna Saunderson says she remains in constant contact with the lead investigator and that as further information becomes available she will release it.
Police do not believe that the public is at risk.