An agency that had started by providing specialized residential care for two youth in Williams Lake celebrated 25 years of service today.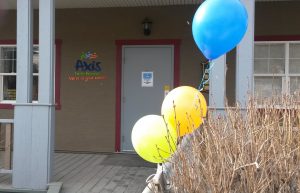 Ann Smith is the CEO of Axis Family Resources.
"It's really nice to see a lot of our current staff are here and we've got folks visiting who have retired who've worked for us years ago. The Mayor, Walt Cobb has stopped by which is lovely and other service providers that we work with are here. It's really special."
Axis Family Resources has grown to provide services to more than 1000 individuals and families each year throughout the interior and northern regions of BC since being co-founded by Rick and Maureen Gibson on February 7, 1992.
"I knew Rick. He had actually helped on a couple of my campaigns," says Walt Cobb who recalled that he was mayor at the time. "I went through the building with him when he bought that building and was doing all of the renovations to get it ready for his new offices. It was kind of nice to see a success."
From that two-bed contract, Axis currently employs over 400 staff and contractors at their nine locations.
"We've been really fortunate to have unbelievable staff who have grown and changed with us over the years," says Smith.
"We work with a pretty great relationship with our funders-MCFD,CLBC, and Interior Health. We're always ready to try something new and take what we've learned from other programs and apply it to something new and just keep working with our missions and values which really have remained the same year after year so we're really proud of that."
Axis will continue their 25 years of service celebrations at their office in Prince George on Thursday and in Quesnel on Friday.