Pioneer Log Homes now has the Guinness Record for the world's fastest log car clocking in at 76.625 kilometers an hour.
President, as well one of the stars of HGTV's Timber Kings, Byran Reid Senior says the experience of testing the car aptly named "Cedar Rocket" at a race track in Arizona on Wednesday was unbelievable.
"It was just a quarter mile so it's not really a race car, it's like a salt flat car so it should have about a couple of miles to get it going. We had to do over 50 km/hr to be registered as title holders with Guinness."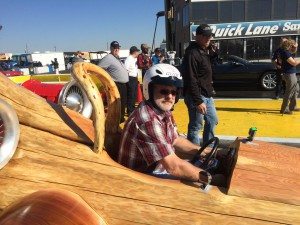 The car which was built from a cedar tree harvested near Bella Bella and powered by two turbines will now be taken to the Barrett-Jackson Car Auction for display before it will be auctioned off next year.
Reid says the interest in the car has been overwhelming and is hopeful that its' sale will net over one million dollars which will be donated to veteran groups.
"They're the only reason we do what we do," says Reid.
"They keep us free."