A Wildwood youth was presented a certificate of bravery along with a Fire Chief's retired hat for his heroic actions which saved the life of his mother on Wednesday.
Debbie Aschwanden, became trapped under an all-terrain vehicle after it had slipped and landed on her while she was unloading it from her truck.
She says her 9-year-old son, Josef, knew exactly what to do.
"He saw it happen and he got his little book he has all the numbers in and dialed 9-1-1 all by himself and told me help was on the way."
Josef also wrapped his mom in a sleeping bag to help keep her warm and stop hypothermia from setting in while they waited for the Wildwood Volunteer Fire Department to arrive.
"If he didn't do what he did it would have been a totally different outcome," says Fire Chief Randy Worsley who gave Josef one of his retired hats.
"We're really proud of him."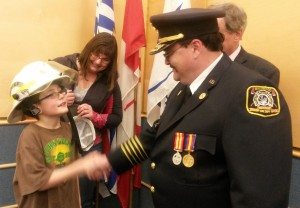 Worsely says it took four of them to remove the 1,000 ATV off of Debbie.
"This is a great example of how important it is for children of all ages, and families to learn about 9-1-1, and know how to use the system in any emergency situation," says Area D Director Steve Forseth.