The brave and the fearless took to Scout Island in yesterday's annual Polar Bear Swim.
Jason Ryll who emceed the event both this year and last year, says although there is always growing interest in the event the chilly weather might have been the reason why just 45 souls took the plunge.
"This year, I can say just off the top of my head the numbers are down but it's fairly chilly so I think that scared some people away."
Tyler Judd, Vice President of the Williams Lake Rustlers Rugby Football Club (WLRFC) says it took them three hours to cut out the swimming hole.
"The ice was about 10 inches thick on the first cut, and overnight we had another two and half inches that we had to get through."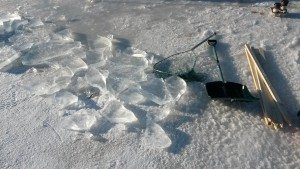 The Swim which has been held every New Year Day since 2001, raises money to help out players cover the costs of equipment, tours, and tournaments.
"I think a lot of people use it as a fresh start to the year, a way to challenge themselves to do something that's not necessarily comfortable," says Judd.
The 2016 Polar Bear Swim pulled in over $3500 for the WLRFC's Junior Development Program.