The numbers and votes are in from the 1st ever Festival of Trees in Williams Lake!
Voters donated a whopping 985 toys and non-perishable food items to the Cariboo Chilcotin Child Development Centre and the Williams Lake Salvation Army to cast their ballot.
The top 3 voted trees and nonprofit organizations who will split the accumulation of found money collected from Signal Point Gaming Centre from October to December are: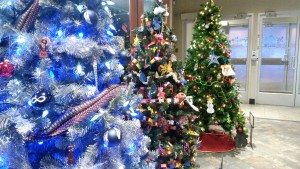 -The Child Development Centre
-Williams Lake Blue Fins Club
-S.A.G.E. Trainers
The trees which are displayed throughout the Gaming Centre will be taken down between January 3rd-9th.
A total of 13 charities participated in the event which officially kicked off on Dec. 2 and wrapped up on Dec. 19.