It was another successful Thanksgiving Food Drive in Quesnel.
   Russell Higdon, the Chair of the Committee for the food drive, goes over some of the numbers.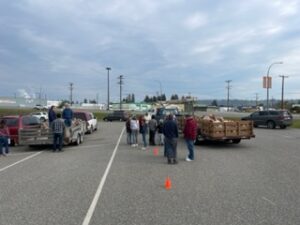 "The contributions this year were quite good.  We deliver about 33-34 hundred bags around the City of Quesnel and we have about 39 to 40 routes that we distribute those bags to.  Last year we did a return rate of about 20 percent.  This year we got a return rate of about 22 percent, so of the 33-34 hundred bags we put out we got 748 bags back."
   Higdon says the weight of those donations were down a bit however.
   "Last year we received about 82-hundred pounds of food.  This year we received 7,670 so we actually a little bit higher return rate, more bags returned, but there were lighter items in the bags.  Last year folks contributed a bit more canned goods and heavy packaged goods like rice and pasta."
   Higdon says he feels the return rate is the more important of the two.
   He says they had 272 volunteers this year.
   "The bulk of those numbers, I would say a little under half of it is the actual activity of distributing the bags and picking the bags up on these 40 routes.   But then there's other folks that volunteer at the drop-off point that help collect bags and put them in the trailer that we take to weigh the food, and then we have another group of people that goes to the distribution centre and helps unload that trailer, so it all really adds up."
   Higdon says he would like to thank all of those volunteers, as well as the community for donating, and the Friendship Centre for providing them with a facility for a drop-off point and sorting centre.
   All of the food will go to the Nourish Food Bank in Quesnel.