UPDATE AT 3-15 p.m.  Johnston Bridge has now been re-opened.
ORIGINAL STORY:
   A fire last (Thursday) night led to the closure of the Johnston Bridge in Quesnel.
   Fire Chief Ron Richert says the Quesnel Volunteer Fire Department was called to a fire underneath the bridge at around 8-40 p.m.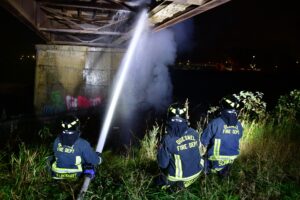 "Upon arrival they had a large fire consisting of wood debris directly underneath the bridge.  Because of  the size of the fire it did reach some of the metal construction on the bridge.  There was some discoloration on the metal."
   Richert says the city will now conduct an assessments to ensure no further structural damage was done.
   "Like I said the fire was big enough that some of the flames did impede on some of the metal and there is a Fortis gas line underneath there too, so just for the safety of residents and anybody crossing that bridge they want to do a full assessment."
   Richert says crews were on scene for about an hour.
   He says they responded with three engines and approximately 15 members.
   As for the cause of the fire, Richert says they can't say for sure at this point if it was deliberately set.
   "It's obviously in an area where there are no ignition points or anything like that.  With the river being so low, there is obviously a collection of wood and debris, and with the combination of wind that goes through, and it was pretty dry conditions, but at this point we can't prove what caused the fire."
   No one was hurt.