1 Million March 4 Children protests hit the Cariboo today. (Wednesday)
In Quesnel, it began at City Hall and later moved to the School District Office on North Star Road.
Groups were calling for the elimination of the Sexual Orientation and Gender Identity curriculum, pronouns and gender ideology now being taught in schools.
There were a number of signs with different messages, including "Teach Subjects not SOGI", and "Hey Teacher Leave The Kids Alone."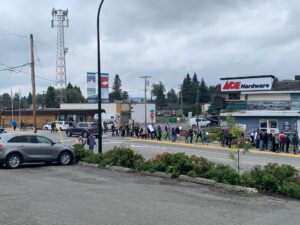 One protestor said it wasn't about being anti-gay.
"Not at all.  People have the right to do what they want to do and be who they want to be, and even to the point of pretending.   You can pretend to be an animal sure.  But you don't have the right to impose that upon me, and you don't have the right to impose it upon our children."
She said that we shouldn't be teaching small children with impressionable minds about these things, and she also talked about someone identifying as an animal or a furry.
"That's just sad because they might exist, but nobody should be affirming that that is reality.  It's not reality, it's illness and the mentally ill are real and they matter and they should be loved and they should never be bullied, NEVER, but for us to teach it is not OK."
The protestor also said that children should be sent to school to learn about things like math and science.
"Lets go back to the basics.  I hear the school system is really in shambles, it's not a counselling session, that's not what it's for."
She went on to say that she was home schooling her youngest child because of all of this.
There was also a counter-protest by the LGBTQ+ community.
Sarah Lemke, who identifies as bi-sexual, said she was there for not only herself but for other people such as her younger sibling who is non-binary.
She said trans and members of the LGBTQ+ community need a safe place.
"That safe place should be in schools because home isn't always a safe place for gay people.  I think it's very important to have a curriculum in school that at the base level says it's OK to be gay, it's OK to be trans, you are loved for who you are."
Lemke, who is 20, also said that she thinks that this type of program would have helped her.
"I think it would have made me more educated on how I was feeling gender-wise.  Because the whole time I grew up it was you had to be either very feminine or masculine and I don't personally identify as non-binary, gender fluid or gender queer or anything, but knowing that that was an option I think would have made me feel safer."
Lemke said she was bullied in three secondary schools over five years in Quesnel.
She said that she didn't feel people were properly educated on what was being taught in schools, adding that being a trans youth or a gay youth was not being pushed.
The RCMP was on hand to make sure that the protests remained peaceful.
Similar protests were held today in Williams Lake and 100 Mile House.