Sugar Cane Archaeology was recently recognized by the BC Achievement Foundation.
They were given an Indigenous Business Award in the  Community-owned Business of the Year category.
Since it first began operations in 2016, Sugar Cane Archaeology Manager and Archaeologist, Brittany Cleminson, said one notable project that put them on the map was the 4-laning of Highway 97 through Williams Lake First Nation IR#1.
"After that we were really busy with post wildfire remediation work following the 2107 wildfires and since then we've continued to take on larger and larger local projects including the Williams Lake River Valley Emergency response in 2020 and the ongoing expansion of the Cariboo Memorial Hospital."
Sugar Cane Archaeology started with approximately three to five employees and since 2016 have seen nothing but continual growth and now employee seasonal field crew of twnety to twenty-five.
Being wholly owned by Williams Lake First Nation, Cleminson said Chief Willie Sellars and Council were really excited when they heard this good news.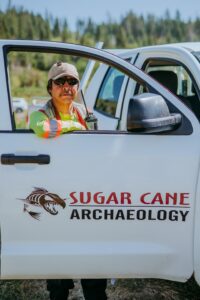 She added that when she heard they had won, they were excited to win and thinks that receiving it is a culmination of a lot of years of effort from the community, their team and crew members.
For a long time Cleminson said they've been saying that it should be First Nations managing their own cultural heritage within the territory and the province as a whole.
"To receive this award which is really validating, and kind of want to use it, not only to show our great success that we've had here but also to provide a bit of an example for other Nations within the province looking to follow a similar path or framework."
Sugar Cane Archaeology specializes in heritage management and natural resource stewardship in BC with a distinct focus on responsible industry practices led by project managers, archaeologists and natural resource experts.