The BC Conservation Service in Quesnel is trying to trap a grizzly bear that was seen in Johnston Subdivision over the weekend.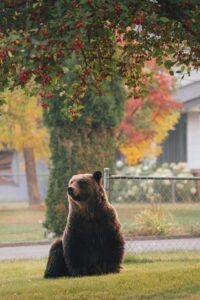 The animal dominated social media.
Quesnel Conservation Officer Kyle Bueckert says it was sighted multiple times.
"I saw it on Saturday and I would say it's likely a 3 or 4 year old male, which isn't a huge bear as far as grizzly bears go, but it is a healthy looking male, and the plan at this point is to try and trap the bear.  We're working with the Wildlife Branch and we're going to assess the bear, and once we assess it we will come up with a game plan as to next steps."
Bueckert says it is rare for grizzly bears to come this close into town.
"It's not common to have a grizzly bear in town in the Quesnel area, but this year we are seeing more bears than normal due to a large amount of attractants, being fruit trees and garbage and anything with a calorie, and there's not much for food sources in the bush this year as far as berries go.  So it isn't surprising that there's grizzly bears working their way down towards the city limits of Quesnel, and grizzly bear numbers are on the rise and they are expanding their territory as well."
Bueckert says this bear is probably between 400 and 500 pounds, but so far has not been aggressive.
"Grizzly bears are an apex predator.  This particular grizzly bear hasn't declared any aggression or any threatening behavior at this time, so I wouldn't consider it dangerous. That being said it you do see the grizzly bear obviously give it a wide berth and try to get indoors and avoid it as we do not want to aggravate it.  Obviously the big thing with any bear is to make sure that we're doing our part in securing attractants, so fruit trees, garbage or anything else with a calorie."
Bueckert says eliminating its food source is the best way to encourage the bear to move on.
He says the last thing they want to have to do is to euthanize a bear.
"When I have to euthanize a bear it's something I hate doing.  I didn't become a game warden to euthanize bears, I want to catch poachers.  Unfortunately this year there's been a lot of bear activity in the Quesnel area and I think at this point in time we're up to 19 bears that have been euthanized, mostly because of poor attractant management.  It's a difficult thing for the CO service and myself to do, and if I can prevent it and not have to do it I will, so we would really, really appreciate it if people would buckle down and secure their attractants properly."