BC Wildfire Service personnel continue to action the Hell Raving Creek wildfire southwest of Tatla Lake in the Chilcotin.
Having merged with the Twist Creek wildfire it's estimated to be 11,429 hectares in size.
Fire Information Officer Talia McKay said over the weekend high winds were present increasing fire behavior and a cold front did move through the area yesterday (September 17) bringing increased winds and some precipitation.
"Structure protection specialists and structure protection units have continued to be on site establishing and implementing structural protection in the area. Crews are currently working to establish fuel free lines on the ridge west of Bluff Lake with sprinkler lines to follow and heavy equipment is on site working to establish guards where accessible and safe to do so."
McKay says due to the winds and visibility aerial support was not able to action the fire over the weekend but assessment is ongoing for aerial support action as the conditions allow.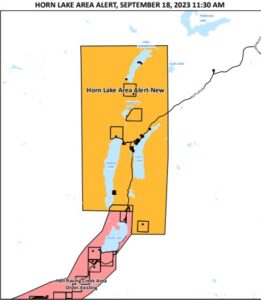 Earlier this morning (September 18) the Cariboo Regional District Emergency Operations Centre downgraded the Evacuation Order in the Horn Lake Area, issued on September 17, to an Evacuation Alert.