Williams Lake's Starfish Pack program saw an increase in student use and costs last year.
The program, ran by the Daybreak Rotary Club, helps provide food for students in five elementary schools in the community that are in need.
Liaison for the Rotary Club and elementary schools, Janet Sandberg says last year saw the largest influx of students.
"I think it was expected, because this is what we've seen on the provincial level. All the other locations that offer the Starfish Pack program throughout the province are experiencing the same thing." says Sandberg.
"Last year was the biggest growth. We stared the year at 34 packs I think, and very quickly by November-December we were up to 64, and then that petered off."
Sandberg added that it isn't just an increase in students using the packs, but also the cost to supply them.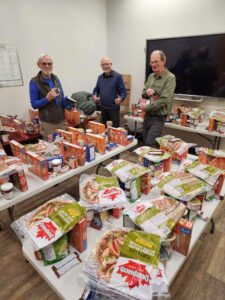 She says when she started her role, the cost per pack was about $575 a year, which they deliver for 33 weeks.
Last year saw that cost skyrocket to just over $800, which she says is significant when trying to budget.
Daybreak Rotary Club President, Andrew Sandberg attributes the increases to, cost of living, more familiarity with the program, and schools identifying the issue better.
Each backpack comes with 2 breakfasts, 2 lunches, 2 dinners and snacks per week for students, with it being bulked up on long weekends.
One of the goals for the program is to feed students, so they're able to focus on school, rather than hunger.
For more information on the program can be found on the Starfish Pack's website here.