A good Sanitarian's quick action in saving and preventing any further injury to a driver in Williams Lake was recognized during Tuesday night's regular city council meeting.
Brady Custaloe was presented with a certificate of recognition from the RCMP with Mayor Walt Cobb for rescuing Wade Cripps.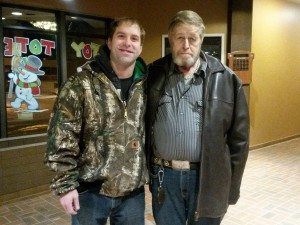 "Well I appreciate it but I was just there and acted the way I felt needed to be acted and didn't think twice."
Custaloe called the RCMP on Oct.  24 to report that a blue Dodge pickup truck was driving on the curb on Mackenzie Avenue.
He noticed that the driver was hunched over the wheel and quickly parked his car jumping into the cab and stopping it from moving any further.
"I was operating a vehicle totally out of control, I was unconscious and he took it into his own hands to take over and he did that," says Cripps.
"He got things back under control for me and without that, there could have been a disaster and that's what I'm very proud of him for."