Blindsided is how residents on Moores Mountain Road say they're feeling with the closure of Frizzi Road Access effective Friday, December 18th.
Linda Hillegeist has been a property owner for 22 years.
"There's a sign at the bottom of Moore Mountain indicating that Frizzi Road at the dump will close effective tomorrow. There was no consultation, there was no communication," she says..
"We see no reason for the road to be closed. Seventeen commute daily into their work and we all pay taxes."
Hillegeist says only on Monday did herself and other residents start to find out what was going on.
"As per the sign we contacted the operations gentleman who told us he was concerned for his staff having to clear the road and that it was dangerous; he told that to most of the residents. Then a couple of days later, Wednesday, we were told it was due to a geotechnical study that said it's dangerous and that there is slippage."
"None of the homeowners have heard anything about this."
Hillegeist says the City has given residents alternative access by way of a locked gate at the Comer Road parking lot through the creek valley.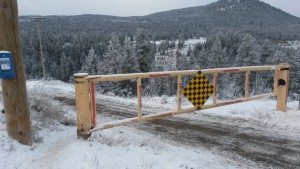 "Only people that live up there will be given keys. Another word we have no access for our visitors, family, friends, people who stop by for a wiener roast. Nothing like that. Zero access for anyone else."
Director of Municipal Services, Gary Muraca says a press release is expected today detailing the road closure.
He says the road has been deemed unsafe because of wash-outs and erosion, adding that the closure is only temporary until the spring when the City will be working with multiple agencies, including the Ministry of Transportation to reassess it.
"All homeowners met last night on the mountain. It is our intent to fight the City as hard as we possibly can," says Hillegeist.
"We have offered the City to maintain the road ourselves as we do our own maintenance on Moore Mountain to our homes. We have suggested signage, limiting City liability. None of that seems to have any impact with the city."
Residents are anticipated to be standing at the road tomorrow trying to block the City from putting in gates.
"We will do our damndest to rally as many users, public, landowners, residents, recreational dog walkers, people who use that creek valley; we will be rallying as many people as possible," says Hillegeist.
"The City has no right to do this without due diligence and proper consultation."