Approximately 50 people attended in what many called a positive Mt. Polley meeting in Williams Lake Wednesday evening to receive the latest updates on activities at the mine including water management.
Environmental Chemist at Golder Associates, Jerry Vandenberg, says Mt. Polley's recently approved short term permit to discharge treated mine contact water from Hazeltine Creek into Quesnel Lake through dual pipelines with diffusers uses the Best Available Technology (BAT).
"In accordance with the environmental management act of British Columbia, the best available technology specifies there is a water treatment plant and a discharge with an initial zone of dilution," he says.
"The initial zone of dilution allows aquatic guidelines to be met and at the end of pipe, acute guidelines."
Van Denberg says water quality is tested at many points throughout the mine and in the receiving environment, including before and after it's treated, as well as 100 meters from the diffuser and at various points in the lake.
A water treatment plant which was fully operating as of Dec. 1  removes particulate fractions of metals to 15 milligrams per liter of total suspended solids.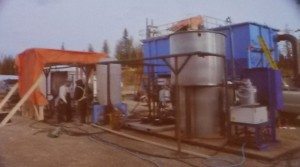 According to Vandenberg, there are a number of amendments and activities that need to go on to get to the long term water management plan.
"The first is an alternative discharge design and construction plan and that's due January 31st of next year; so that's an alternative to Hazeltine Creek. The next major milestone is a long-term management plan and that will be something reported in what is known as a technical assessment report which is due to the Ministry of Environment by June 30th."
The next milestone after that is to implement and commission the alternative to Hazeltine Creek by November 30, 2016.
Vandenberg says a number of testing will be required to implement a long term treatment system and that once a low number of options are selected they will do screening to select the best option that will be operational throughout the life of the mine and preferably into closure as well.
Mount Polley is hoping to transition from their current restricted operations permit to full-time by April 1, 2016.