The Cariboo Fire Centre is seeing a mix of high to extreme fire danger ratings.
Continuous hot and dry weather in the Cariboo has made the fire risk very serious, making it easier to ignite and grow.
"Williams Lake is currently at a high to extreme fire danger rating, Chilcotin is high to extreme, 100 Mile House is Moderate to high with pockets of extreme, and Quesnel is high to extreme." says Talia McKay, Fire Information Officer.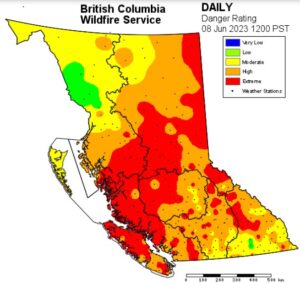 McKay added that it's tough to say if the ratings will continue, however the warm dry weather is expected to continue, along with a potential of lightning and rain Friday evening.
This follows the prohibition of category 1 campfires that began this afternoon (Thursday, June 8th).