The Wells Fire Brigade responded to a structure fire this (Friday) afternoon.
Mayor Ed Coleman says the call came in at around 4 o'clock to Mooney Lane not far from the Legion.
" It was fully engulfed.  On the site there were some vehicles and some small propane tanks, but right beside the site were some larger propane tanks so that was an area of concern.  We had the whole wildfire brigade on scene, one ambulance as a citizen had some minor burns and was treated by ambulance.  It looks like he's going to be OK."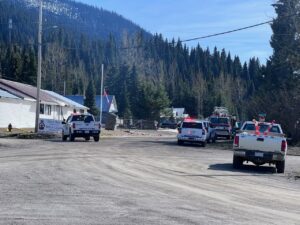 Coleman says they also received some assistance from Quesnel.
"We had three RCMP cruisers come out from Quesnel just to secure the area and make sure people were back from the situation.  And Emergency Support Services we do through the City of Quesnel, so we outreached to them for some help for the citizen right away for their accommodation for the night."
Coleman says unfortunately the structure and the property were lost.
He says he expects fire crews will remain on scene late into the night.
"They will be there for a while.  The propane tank is being dealt with.  It's bleeding off how it's supposed to in a situation like this, and they've kept it cool."
The cause of the fire remains under investigation.