100 Mile House is the least affordable community in Northern BC when it comes to owning a home.
The BC Northern Real Estate Board says the Housing Affordability indicator for 100 Mile in 2022 was at 61.6 percent.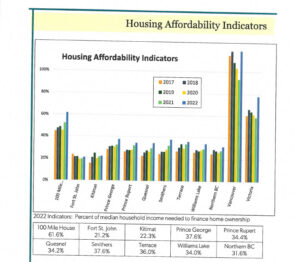 "An affordability measure of 30 percent means that home ownership costs, including mortgage payments, utilities, and property taxes for a given year take up 30 percent of a typical household's pre-tax annual income."
The Board says the biggest reason for the lack of affordability in 100 Mile comes down to one particular marker.
"The major factor continues to be median household income. 100 Mile House was markedly lower in that measure than other communities in Northern British Columbia."
100 Mile also saw the largest increase in house prices in the region last year.
When it comes to the Housing Affordability indicator in the rest of the Cariboo, Quesnel is sitting at 34.2 percent and Williams Lake is at an even 34 percent.
Those figures are up by more than 10 percent from 2021.
The Canada Mortgage and Housing Corporation says housing is considered "affordable" if it costs less than 30 percent of household income before tax.
Northern BC is still much more affordable than the Lower Mainland however, where the indicator is at 124.2 percent.