"This is in many ways the most successful Northern Fancon we've ever had,"
Those are the words of event organizer Norm Coyne as the popular spring event packed the CN Centre over the weekend.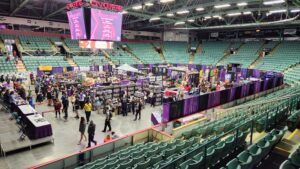 The three-day festival had no shortage of star power either according to Coyne.
"Emily Swallow from the Mandalorian was a huge win for us this year. She is just so sweet – she is very engaging and that is what we try and aim is guests like that who deliver the real fan experience."
Coyne added landing a household name like Lou Diamond Phillips was huge.
"He's an icon. He just never stops working and has been doing so for decades and decades. The TV shows that he has been in and having the chance to connect with him in real life you know is pretty profound."
In addition, their UFC watch party at Trench Brewing, which included former champion Forest Griffen sold out in minutes.
"That sold out so quickly and I can tell you that is something we are going to be looking into more often in the future."
And as always, the Cosplay contest continues to be the bell of the ball.
"To see the work that somebody puts into the costume for like a year and to have it open on the stage there is just a firecracker," said Coyne.
Coyne confirmed attendance reached back to pre-pandemic levels after a couple scaled back events the past two years
He confirmed Northern Fancon is returning in 2024.
(With files from Brendan Pawliw-MyPGNow)