Fire destroyed a couple of outbuildings in the Barlow Creek area in Quesnel on Sunday afternoon.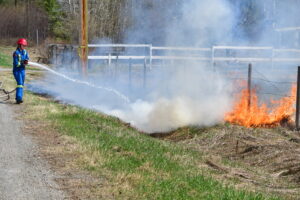 Quesnel Fire Chief Ron Richert says they received a mutual aid call at around 1-45 to Scott Road.
"Upon arrival, we had a large wildland fire that was out of control. It did destroy some outbuildings but all residential homes were saved.  We had 10-Mile Lake Fire Department, Bouchie Lake Fire Department, and the Wildfire Initial Attack Crew also respond to this incident."
Richert says the fire was very active and spread across three private properties.
"It actually spread quite rapidly through an open area through some grass into some forested area.  We did lose a couple of outbuildings (sheds) that were sheds, but crews were able to protect the residential homes.  We were on scene for about two hours and we were able to control the situation."
Richert says there were multiple 9-1-1 calls from residents in the area.
Fortunately, no one was hurt.
As for a cause, Richert says it appears that someone was burning debris and it got away from them.