The spirit of giving this holiday season in Williams Lake was well in the air at Signal Point with the opening of their 1st ever Festival of Trees Wednesday afternoon.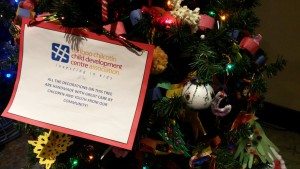 Shawna Phillips, Marketing Coordinator and General Manager says they will be donating funds from their 'Found Money Account" to the three charities with the most votes from their trees.
"We have the public to take part by bringing in a donation for the toy and food hamper and in exchange, they will receive a ballot to vote for their favorite charity tree."
Voting in the Festival of Trees runs until December 19th, with the toys and non-perishable food items to be donated to the Child Development Center and the Salvation Army.
13 not for profit organizations are participating in the Festival.