A zoning amendment for a new apartment building in Quesnel remains on hold, but it appears there could be some movement on the project.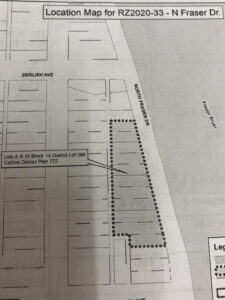 Quesnel City Council unanimously approved a second 6-month extension to the Quesnel Tillicum Society at last (Tuesday) night's meeting.
Tanya Turner is the Director of Development Services.
"The bylaw received third reading in 2021 A first extension was requested in November and this is a second extension.  I can report to Council that there is significant progress happening on this file and we're exciting how it's moving forward from a staff perspective."
Councillor Scott Elliott asked if they should extend it beyond the 6 months.
Turner noted that that wasn't an option.
"As per the bylaw that's the way it's written, and I think it's good to keep it on track. This applicant is an applicant we're used to working with, but it's always good t keep applicants moving along."
The proposal is for a 34-unit, five storey apartment building on North Fraser Drive beside the Native Friendship Centre.
It would consist of one and two bedroom apartments.