The provincial electoral boundaries in the Cariboo are one step closer to being changed.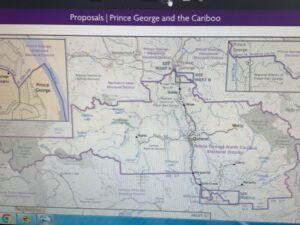 The BC Electoral Boundaries Commission's final recommendations would include a new Prince George-North Cariboo riding that would replace Cariboo North.
It would consist of the southern portion of Prince George, including most of the College Heights neighbourhood, and communities along Highway 97 such as Quesnel, Stoner, Hixon and Marguerite.
The riding will be bordered by the Cariboo Regional District in the west and will include the communities of Wells, Likely and Horsefly in the east.
Williams Lake and 100 Mile House would remain in the Cariboo-Chilcotin riding, but that riding would be expanded south to include Cache Creek and Ashcroft that are currently in the Fraser-Nicola riding.
The Commission considered combining the two Cariboo ridings into one, but found that it was not possible to do it in a way that would ensure effective representation.
Another consideration was to add Bella Coola to a Cariboo riding.
That was shot down because it would have further reduced the already small population of the North Coast electoral district.
The final report, that also calls for 6 new ridings mostly in the Lower Mainland, will now go to the legislature for approval.