There was very little doubt who the best senior men's hockey team was in B.C. this year.
The Quesnel Kangaroos started a little slow, giving up the game's first goal just over a minute in in Saturday night's championship game, but they took over from there.
Allessio Tomassetti tied things up at 3-28 on a scramble in front of the net.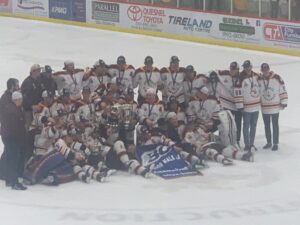 Tomassetti then made it 2-1 on a power play a few minutes later.
Lane Vanderwetering converted a beautiful pass from Eli Jarvis to make it 3-1 at 8-25, and Jarvis then scored one of his own to make it 4-1 Quesnel after one and they were off to the races.
The teams exchanged goals in the second period, although it could have been much worse for Terrace if not for some unbelievable saves by goaltender Patrick Leal,
Brody Dyck scored Quesnel's fifth goal.
The third period was all Roos.
Tommy Grant scored a couple of goals on the power play, Paul Girodat had the prettiest goal of the night on an individual end to end rush and Justin Fulton scored on a one-timer late to make the final 9-2.
All of this was done in front of a massive crowd at the West Fraser Centre.