Work is moving along aggressively on the Williams Lake First Nations Osprey Nest project.
Kirk Dressler, WLFN Director of Legal and Corporate Services, said over the last couple of weeks progress is being made in assembling the structure, and in the coming months, it will be further built out.
"Over the past several weeks the glue lamb skeleton has rapidly gone up and the framing is proceeding now. In the course of just a few weeks, we've seen it rise up into the sky and in the coming months, the structure will be further built out. Then by the middle of the summer, the remainder of the site works will get underway as well with paving, and landscaping, and those things."
Dressler noted after that they'll be devoted to the interior finishing for the remainder of the year with the anticipated completion of sometime around the end of December if they don't encounter any significant challenges which we don't expect to be the case.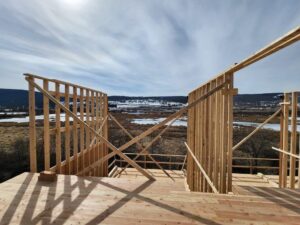 "Everything is on schedule," Dressler said, "We were delayed probably by 6 to 8 weeks waiting for the glue lambs and there were some challenges in terms of missing components which is not unusual but we're back on track. We're making very good time now and it's exciting to see it come together."
When completed the Osprey Nest will consist of a 2000 square-foot restaurant with nearly a thousand square feet of outdoor patio space overlooking the lake and Scout Island.
The second floor will be high-end open-concept loft spaces with a total of 18 feet of height.
"The Osprey Nest project is of a type and to a standard that I don't think we've seen too much of in the Cariboo today," Dressler added, "we're excited about the opportunities it will offer for people who are looking for a new gathering space approximate to the Lake."