The Quesnel Volunteer Fire Department was called out to the Monarch Trailer Park earlier today. (Wednesday)
Fire Chief Ron Richert.
"At approximately 11-30 a.m. we were called to 950 Anderson Drive for a trailer that was on fire.  Upon arrival we had heavy smoke showing at some points."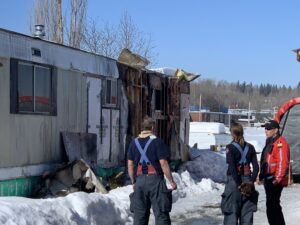 Richert says crews worked quickly to keep the fire from spreading to nearby trailers.
"We were able to contain it to the interior of the home.  We did have some visible flames showing from one of the windows on the back side but crews were able to quickly get inside, and from the exterior and the interior extinguish the blaze."
Richert says it appears the fire started at the back of the trailer which was where the most significant damage was, although he says the cause of the fire remains under investigation.
He says no one was hurt as the owner was at work at the time and no one else was in the residence.
Richert says they received mutual aid as the West Fraser Fire Department provided tender support.
He says the Quesnel Fire Department responded with four pieces of apparatus and approximately 15 fire fighters.