A fun exhibition game to raise funds for Xatsulls newly formed hockey club hits the ice later this month.
The Gibraltar Copper Kings will face off against the Xatsull Golden Feathers which organizer Dustin Phillips said both teams are looking forward to taking part in.
"It's going to be at the Cariboo Memorial Complex on March 18th from 3 to 4:30. We're going to have an opening prayer by Mike Stintson followed by drumming. We have a Gino Odjick skate edition jersey draw and a Connor McDavid jersey and two Bauer sticks, donated by Gibraltar, are going to raffle."
Phillips noted he started putting the hockey team together last October and had approached Gibraltar's First Nation liaison worker, who was Courtney Cook at the time, about working together on this charity game.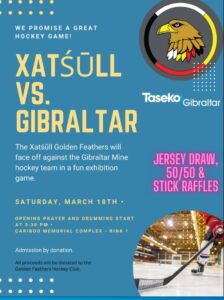 " They were really receptive about taking part in this game and a lot of hard work on both ends went into to get it all set up and I'm really looking forward to it," Phillips said.
Phillips added that admission is by donation and that no donation is too big or too small to come out and show your support for these two teams getting together to have some fun for a good cause.