The 2023 version of the Hearts for Hospice Gala in Quesnel was a huge success !
Suzannah Meier, Executive Director of the Quesnel & District Hospice Palliative Care Association, says they did really well this year.
"We made just over $47,000.  If I remember correctly the profits at gala 2020, which was our last one, was around $24,000, so it almost doubled."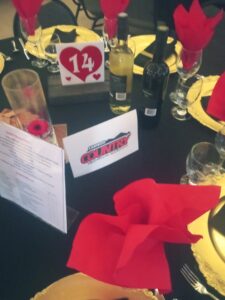 Meier it was a sell out and they even added tickets.
"We actually had to print more tickets and we put in two extra tables. The first was 200 people and then I would say plus 12, so 212 people."
She says people were very generous.
"There was a live desert auction and that did really, really well. Our top desert went for 27-hundred dollars. That was wow, and then some of the deserts were given back and auctioned again. Our big ticket item was an adventure fishing charter tour up by Prince Rupert by Thunder 1 Adventures and the value of that item was $10,000.
In that case, Meier says 30 dollar boxes were sold at the beginning of the night and then at the end of the night when people opened those boxes a winner was revealed.
She says there were a lot of donations from local artisans, unique art pieces and things like that, as well as a variety of paintings that went for high amounts of money.
Meier calls it a really nice community effort, adding that the money will go to a few really good causes.
"We're going to purchase two Stryker mattresses.  They have pockets of air that are in different cells throughout the mattress and they deflate and inflate depending on patient movement.  It takes turns so that the patient is more comfortable, and it reduces the possibility of bed soars because they're not laying with the same amount of pressure on any area all the time.  There is also something called a Sara Steady Lift and it helps the patient go from a wheelchair up into the standing position.  It then supports them as well so they can move around, of course with the help of nursing staff."
Meier says she would like to thank the community, the Gala Committee and the Board members.
She says it's just a win-win for everybody, as the community gets to have a great time, and we get to help patients in our community to get them really good equipment that will make them more comfortable.